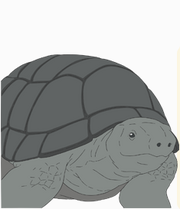 Tortoise (ゾウガメ, Zougame?) is the second applicant for the part-time job. He is too slow and also wanted a promised position for a century.
Appearance
Edit
Personality
Edit
For his wish at the Tanabata Festival he wished to ride a bike.
Relationships
Edit
He is known for participating in a camera club with Penko.
Abilities and Powers
Edit
When he failed the test, he hid inside his shell and was pulled on a tumbril by Mandrill.