Panda
Kanji

パンダ

Rōmaji

Panda

Gender

Male

Species

Giant Panda (Ailuropoda melanoleuca)

Relative(s)

Panda-Mama (mother), Mei Mei (little sister)

Occupations

Zoo animal

Debut
Japanese Voice

Jun Fukuyama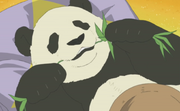 Panda (パンダ Panda) is one of the main characters and works at the Zoo.
When Penguin is drunk, he refers to him as Mr. Yoshizaki. Panda doesn't appear to know what this means.
Appearance
Edit
As a giant panda, Panda has black arms and legs, with a black line across his chest and back, connecting his arms. The tips of his ears and an area around his eyes are black too, while the rest of his body is white, including stomach, tail, and face.
Background
Edit
Panda lives near Polar Bear's Cafe along with the rest of his family.
Personality
Edit
He is a lazy character and loves eating, particularly bamboo and bamboo grass.
Panda is also seemingly partially dim-witted, refers to himself as "cute," and is obsessed with panda-themed merchandise.
He has a habit of being brutally honest, but doesn't seem to notice this.
Relationships
Edit
Panda Mama is Panda's mother. She doesn't like it when Panda lazes around, and wished he would get a job. Eventually, this leads Panda to work at the zoo.
Panda works at the zoo with Full Time Panda, Llama, Giraffe, Sea Otter, Tapir, and Koala.
Abilities
Edit
Panda has next to no productive abilities. When looking for a part-time job, Panda usually fills in at jobs at which he is not particularly skilled.
Panda is introduced as a lazy fellow who likes lying down and eating bamboo. He does not like it when his Mother wants to talk to him about his future when he is relaxing. When she gets annoyed, she uses the vacuum and sucks his fur.
He searches for jobs, and tries to get one at Polar Bear's Cafe, but ends up not getting the job. He later gets a job at the zoo, where he could be lazy and work at the same time.
Needs adding to this page
Edit