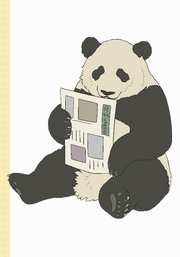 Full Time Panda (常勤パンダ, Jōkin Panda?) is an older Giant Panda who works full time at the zoo alongside Panda (hence his name). He is married and a father of an increasingly large family. He works hard to make ends.
Appearance
Edit
Full Time Panda looks just like any other panda.
Personality
Edit
Unlike Panda, Full Time Panda is a lot more committed to working, most likely because he cares for his family.
Relationships
Edit
Full Time Panda began the series as a husband and father of 2. He begins to take on side jobs to help make ends meet following the birth of his 3rd child. After he is transferred to a zoo in Singapore, it's revealed in a family photo that his family has grown again with the birth of twin pandas.
Rintaro Hayashi
Edit