Episode 04
250px
Obsessed with Smartphones / Super Fun Driving Lesson

Kanji

スマフォに夢中・わくわくドライブレッスン

Rōmaji

Sumafo ni Muchū / Wakuwaku Doraibu Ressun

Debut

April 26, 2012

Opening

Ending

Previous Episode

Next Episode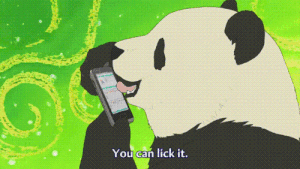 Fourth episode of Shirokuma Cafe.
Obsessed with Smartphones
Edit
After seeing everyone with their new smartphones, Panda tries to convince his mom to buy him one. After he actually gets one he breaks the panda cover it had on. Polar Bear tries to cheer him up by making him an origami panda cover, only for Panda to break the actual phone.
Super Fun Driving Lesson
Edit
Wanting to learn driving techniques, Penguin joins Polar Bear and Panda out for a drive.